On the morning of February 21, 2018, a beloved North Carolina man was called home. Reverend Billy Graham died in his Montreat home at the age of 99. Many people were affected by the words of Rev. Graham and his legacy.
Many people loved and cherished him throughout his nearly 60 decades of work and decade of retirement.
MORE: Reverend Billy Graham's Obituary
Here are 10 things you may or may not know about Reverend Billy Graham.
1. Billy Graham did not make a personal commitment to Christ until he was nearly 16 years old.
His family was very devout, but Graham himself didn't put his life to God until just before his 16th birthday, on Nov. 1, 1934. 2. He met his wife while he attended college where he was majoring in anthropology.
Graham had a full class load while studying anthropology and still managed to preach near his college near Chicago, even serving as a Pastor. While studying at Wheaton College near Chicago, he met Ruth McCue Bell, who is the daughter of medical missionaries. It wasn't until right after graduation they married - Aug. 13, 1943.
3. It wasn't until 1949 that Billy Graham became a public icon.
During the postwar era, Graham began preaching in public rallies throughout the United States and Europe. During a citywide preaching Crusade in Los Angeles, a three-week rally ended up being eight weeks, where night after night Billy Graham became the face of the Crusade after newspapers and reporters spotlighted the rally.
A few years later in 1954, he spent a 12-week crusade in London which gave him international recognition.
4. Billy Graham is the face of televised Gospel.
Graham was always one of the first to use new technologies to preach, including radio and TV. In 1989, he began hosting his Crusades via satellite which brought his word to live audiences around the world.
PHOTOS: Remembering Billy Graham
5. He is a well published author.
Graham wrote more than 30 books and spent months on best-seller lists throughout his life. His first book Peace With God has been translated into 38 languages.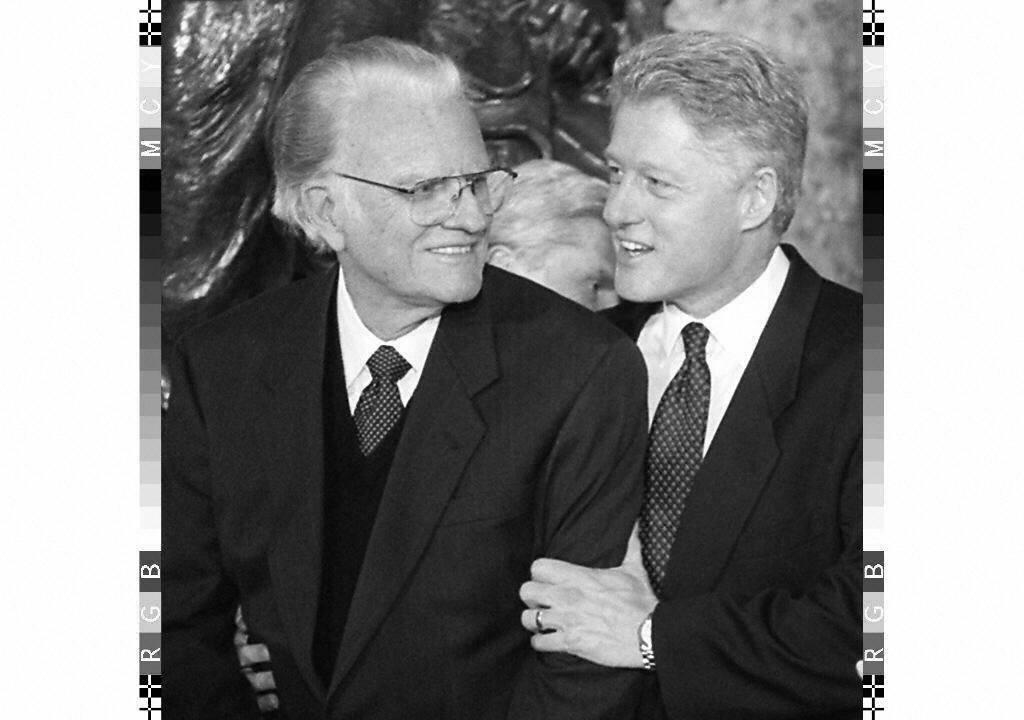 6. Many presidents, celebrities and influencers sought counsel from Billy Graham.
Rev. Graham has met every president since Harry. S Truman, the 33rd President of the United States.
7. He has 19 grandchildren.
Billy Graham married Ruth in 1943 and since then has had five children - Gigi, Anne, Ruth, Franklin and Ned. From there, he has gained 19 grandchildren and numerous great-grandchildren.
8. Billy Graham has preached to more than 200 million people.
Throughout his life, Rev. Graham held more than 400 Crusades, including his final one in 2005, and preached to nearly 215 million people in 185 countries.
9. Billy Graham will be buried next to his wife.
His wife Ruth passed away on June 14, 2007 and is buried at Billy Graham Library. Rev. Graham will join her during a private funeral service.
10. Billy Graham grew up on a dairy farm in Charlotte.
His childhood was spent milking cows at the Graham family farm. Today, that farm is better known as Park Road Shopping Center.
(Photo of Rev. Graham and wife Ruth: Billy Graham Evangelistic Association. Photo of Rev. Graham with Bill Clinton: Getty Images)